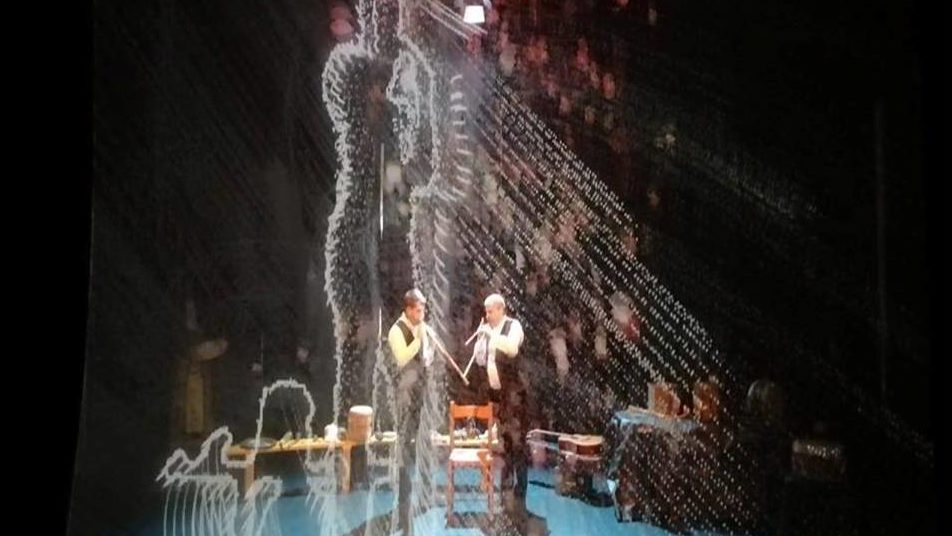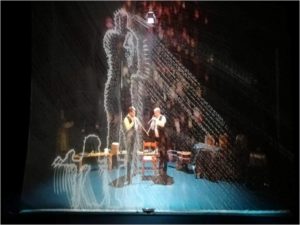 Graphics generated in real time that accompany the live musical journey, using motion sensors, sound analysis and the projection system on a holographic sheet.
TUMBU
It is an innovative project that has deep roots.
A lively immersion in the richness of the traditional musical heritage, which becomes a poetic vision through the use of new technologies for the stage; a game of mirrors that reflects the richness of our identity imagery.
The traditional musical repertoires performed on stage by Orlando Mascia and Eliseo Mascia, father and son, multi-instrumentalists of Maracalagonis, are explored within a digital frame that restores the condition of listening to the eye. A musical vision that projects the past into the future.
Identity is the Future, in the DOMOSC – Domo de sa Cultura in Cagliari.
Director: Ilaria Nina Zedda.
Techonology Direction: Marco Quondamatteo
On stage:
Muisicians: Orlando Mascia and Eliseo Mascia.
Performers: Marisa Cau and Monica Serra.
Digital creative Team:
Assistant director: Claudia Pupillo
Live Visual: Simone Murtas
Sound Engineer: Elvio Corona.
Scientific advice by the ethnomusicologist Marco Lutzu.
Production: DOMOSC-Domos de Sa Cultura.